CAREER OPPORTUNITIES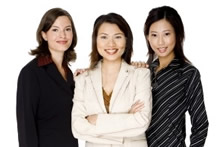 Whether you are a recent graduate or a highly experienced executive, Novaleon is constantly looking for new talents to join our team.
Singapore | Malaysia
---
OPPORTUNITIES WITHIN NOVALEON GROUP
Novaleon is rapidly expanding and we are looking at new members to provide new skills and fresh talents to our team. We may not have specific vacancies at the moment but we always welcome your submissions and will keep details on file ready to be considered for any suitable opening.
We are constantly looking for:
Mentors / Coaches / Trainers
Sales Managers
Sales Executives
Sales Executives (Part-Time / Free-Lance)
Marketing Specialists
All resume submissions will be treated with utmost confidence and please email them (i.e. WORD, PDF, etc.) to hrd@novaleon.com
---

OPPORTUNITIES WITH NOVALEON PARTNERS
Novaleon (through Novaleon Academy) also specializes in headhunting and recruitment / placement of executive and senior-level positions in various industries within Singapore and regionally. As a leading provider of sales / marketing and management solutions in the region, Novaleon has strong relationships with an extensive network of contacts multiple industries.
Current Openings
Designers and Web Developers
Internet Media Sales Executives / Managers
SEO (Search Engine Optimization) Manager
IT (Security Software) Sales

Please submit your resume indication position applying for along with relevant information for Novaleon and its partners consideration. Submissions will be treated with utmost confidence and please email them (i.e. WORD, PDF, etc.) to hrd@novaleon.com